Are you satisfied with just "viewing environmental data"?
The change of daily climate, the growth of crops, and concerns about the pests and diseases... the cultivation is a series of decisions.
e-kakashi gives you more than viewing environmental data.
By analyzing the data from our sensors in real time, our IoT te chnology gives you updated information not only on the climate, but also on the growth status of your plants, detecting potential problems such as the pests and diseases and finding the best solutions fo r them.
01/ Increase your income with boosting productivity and improving quality.
02/ Lower the risks with the pest and disease forecasting alert.
03/ An user-friendly, power cable free device with an affordable price.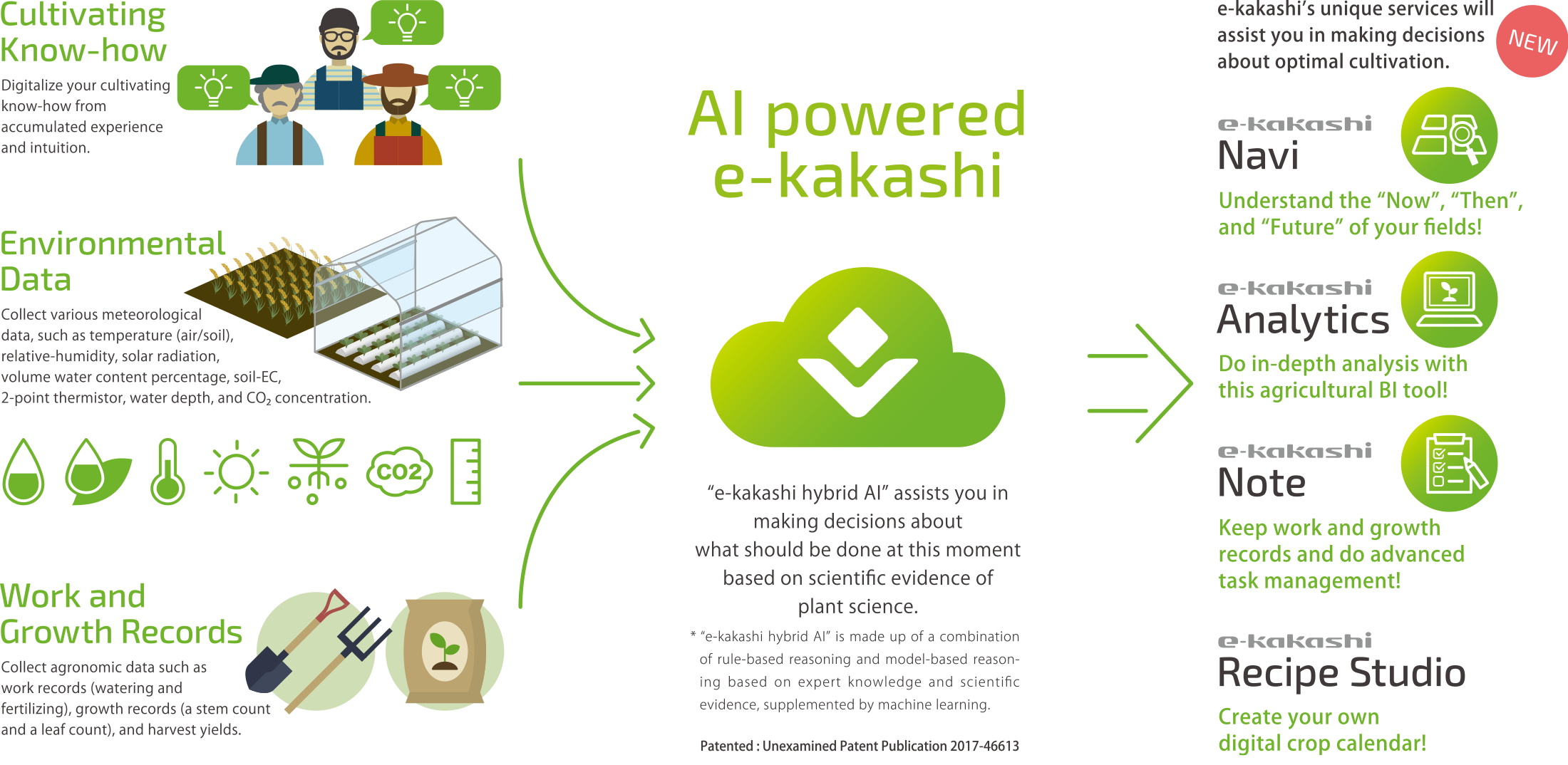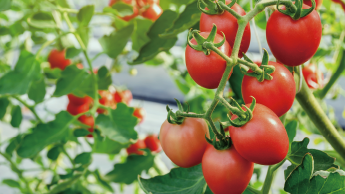 Improve Quality and Harvest Yields
e-kakashi analyzes the collected environmental data based on plant science, and it suggests specific measures to optimize the cultivating environment. This approach already proved to increase productivity and yield. To know actual case studies, visit https://www.e-kakashi.com/case (Japanese only)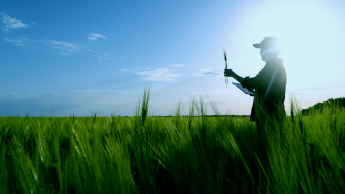 Train Successors and Preserve Techniques
e-kakashi provides support to solve the problems such as an aging workforce and a shortage of successors. You can share ek Recipe (digital crop calendar), environmental data, and work records, and this makes it possible to preserve techniques and shorten a learning period. Furthermore, you can incorporate your experience and intuition into an ek Recipe. What is more, e-kakashi can be used to improve and take over regional cultivating techniques.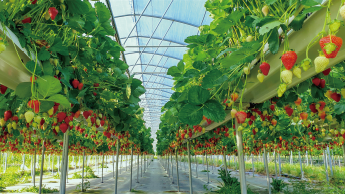 A Wide Variety of Forecasting Alerts
e-kakashi provides you with forecasting alerts such as notification of the optimal harvest time and the existence of pests and diseases. This makes you easier to arrange the number of staffs as necessary at the optimal harvest time and to carry out the whole chemical application at the optimal timing.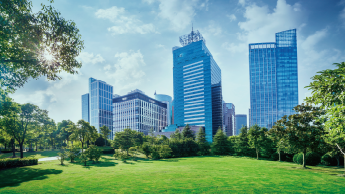 Environmental Conservation
For instance, you can utilize the necessary water at the necessary timing under the optimal water management based on the scientific evidence. We support the effective use of limited water resources and the reduction of the amount of greenhouse gas. For details, please refer to the column.
Application

Cultivating Navigation
To understand the "Now", "Then", and "Future" of your fields from various angles.
e-kakashi Navi is an environmental data browsing app that can be widely used by one or everyone. Not only momentary data value but also daily average, accumulated temperature, solar radiation, and humidity deficit are automatically calculated, so it is easy to grasp the changes in your fields. Also, you can receive the alert from ek Recipe* that you have already set. With the optimal harvest time forecast, you can systematically arrange the resources and staffs, making good use for the optimization of harvest timing. The resources and staffs can be systematically allocated prior to harvest timing. Pest and disease alerts can avoid risks without missing the timing for chemical application. What is more, with e-kakashi Analytics, you can manage the work and growth records of multiple producers along with the environmental data collected from e-kakashi Navi.
*ek Recipe is the electronic crop calendar from e-kakashi services.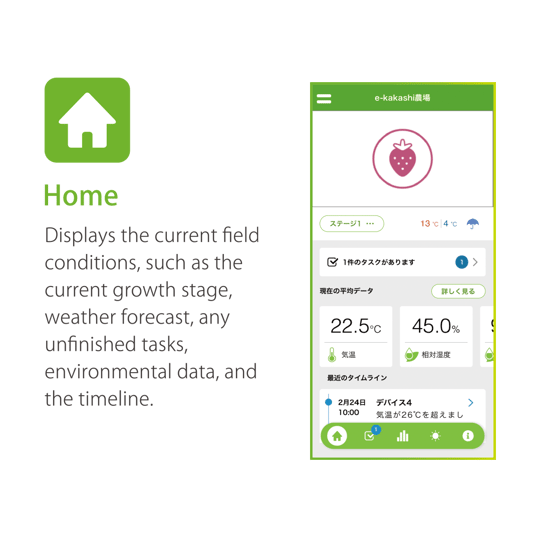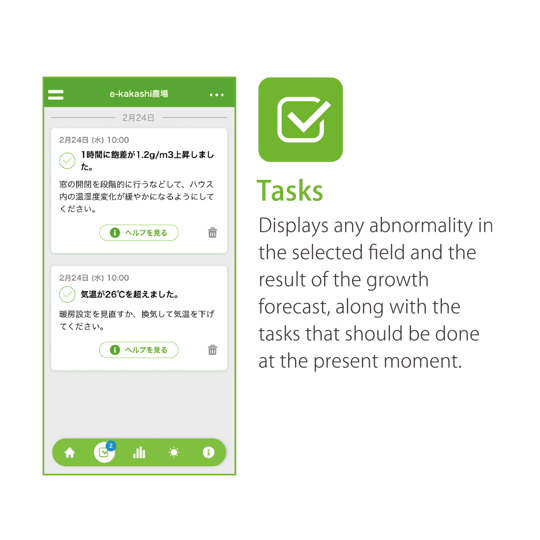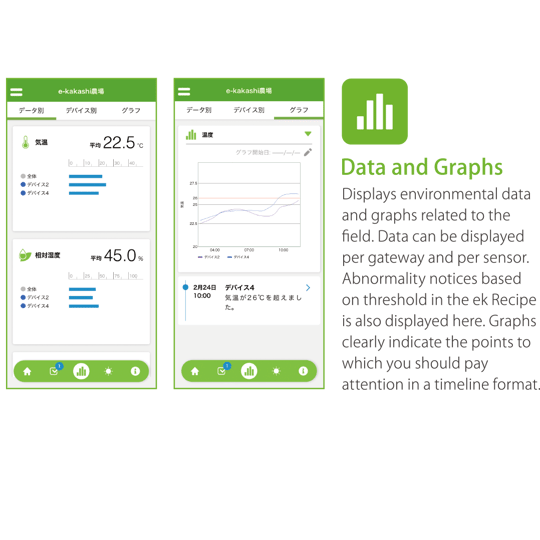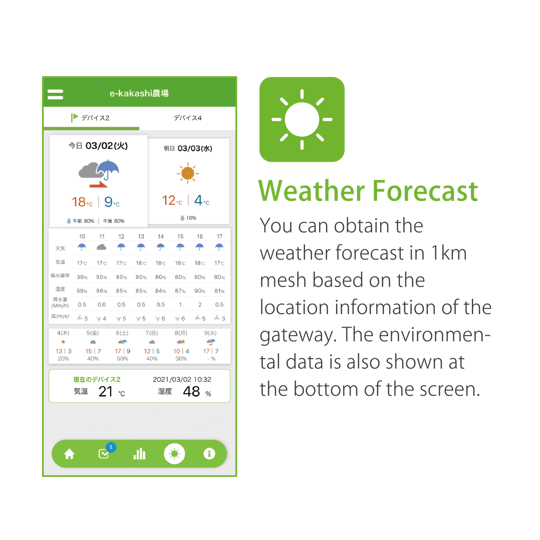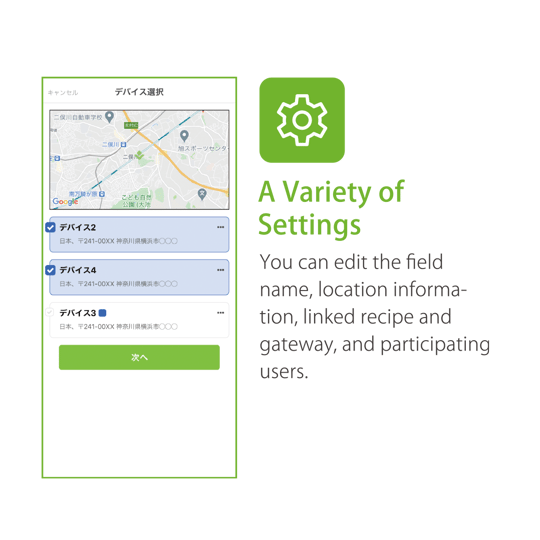 Agricultural BI Tool
To analyze data from various angles.
e-kakashi Analytics is an agricultural BI Tool for a team (for managers and for researchers). Environmental data collected from multiple fields*¹ and work records can be uniformly managed. By utilizing component* ² which specializes in each analysis, you can customize a dashboard you want to see, and this contributes to analyze determinants and the efficient guidance on cultivation.
Furthermore, if you keep the results of analysis as knowledge, and set them into ek Recipe, you can lead to the improvement of cultivating techniques.
*1 : This is a unit of a field that is managed in the apps such as e-kakashi Navi and e-kakashi Note.
*2 : This is a standardized function for analysis that e-kakashi offers.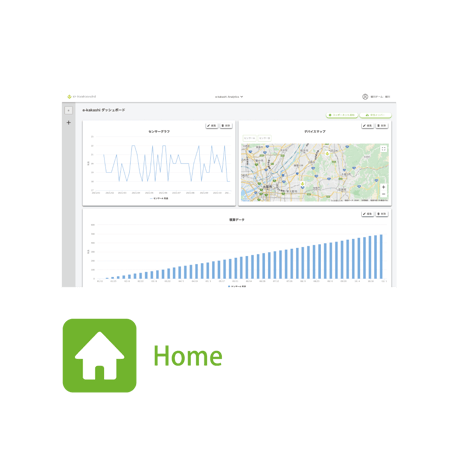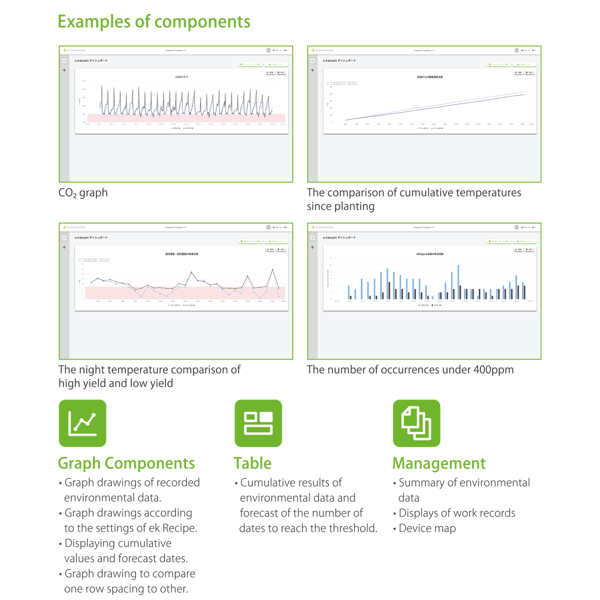 Work Record Tool
To carry out advanced cultivating management.
e-kakashi Note is a task management tool in which you can see w hen and which tasks should be done and can schedule the date in each fie ld. You can also check unfinished tasks in a list. Y ou don't overlook and do same task multiple times by mistake. And also you can keep the growth rec ords such as the number of stems and leaves. e-kakashi Note assists the adva nced cultivating management. It can be used alone, but it is also recommende d to share with others. With the linkage of e-kakashi Analytics, you can a nalyze "which tasks" has effects on growth and yield and " how", linking to environmental data, work records, and growth records. By doing so, supervisor s can give the appropriate cultivating guidance, and the farmers can receive t he optimal cultivating guidance.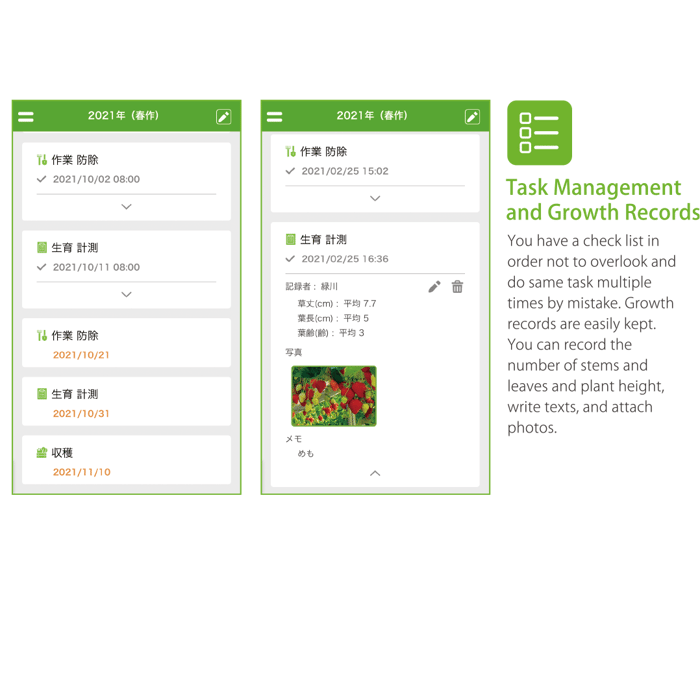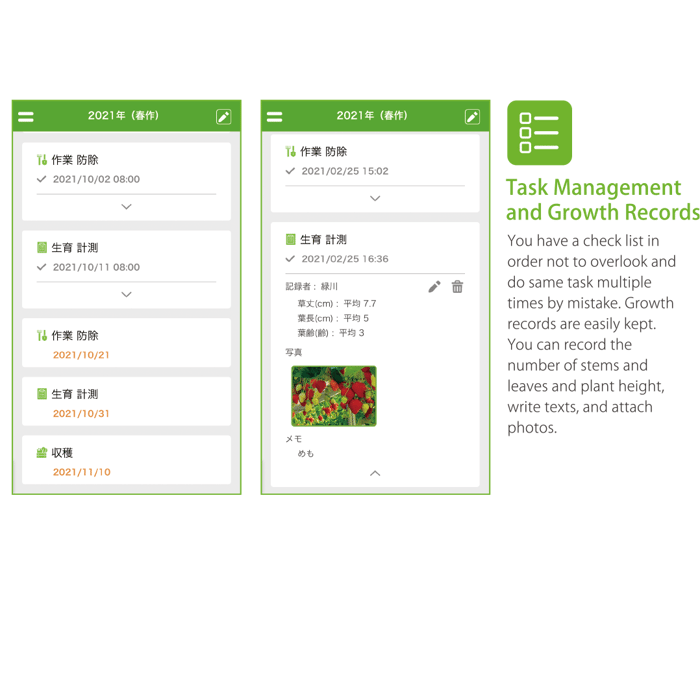 Digital Crop Calendar
To use ek Recipe and create my own recipe.
ek Recipe is a digital crop calendar that tells you the cultiva tion points on each growing stage. It is easy to get started by using the pre-set f ree recipes. You can also set your own threshold, which allows you to create you r own recipe.
It can be shared with others. For example, if you set the thres hold based on the crop calendar of its own area or a specific brand, you can c reate the recipe to take over this expertise. By sharing it, you can work toward the improvement of the cultivating techniques in the whole community .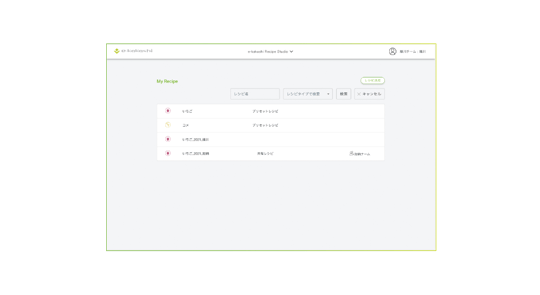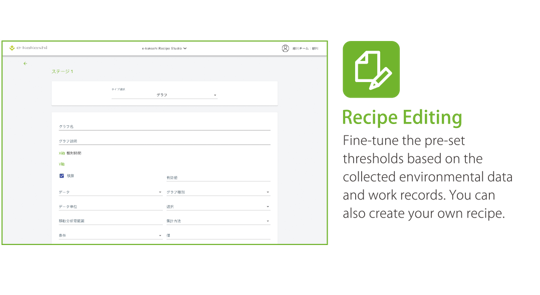 Price
Apps
| | |
| --- | --- |
| e-kakashi Navi | Free |
| e-kakashi Analytics | 100 USD / Month ~ |
| e-kakashi Note | Free |
| e-kakashi Recipe Studio | Free |
Device
Gateway
950 USD / Unit ~

*¹

Connection Fee
9 USD / Month ~

*²

Cloud Usage Fee
38 USD / Month ~

*³
*1 : Sensors are required separately.
*2 : This is the fee per unit. Off season can be set up to 4 months. Connection fees will not be charged for the off seasons that have been set. Data will not be collected during the off seasons.
*3 : This is the fee per contract.
* With regard to all fees, it assumes that the contract is made in Japan and the service is used in Japan.
* This is a reference fee. The exchange rate is assumed to be 1USD=105JPY, and the decimals are rounded to the nearest whole number.


Gateway & Sensor

Manufacturer : TOKYO ELECTRON DEVICE LIMITED (TED)

01
Independent Drive Device.
Power cable free, directly connected to mobile phone network.
Solar panel equipped, power cable free*¹.
With built-in rechargeable batteries*²,
there is no need to worry about rainy days*³.
02

Up to 4 types of sensors can be connected to a single gateway.

Equipped with 2 digital ports and 2 analog ports.
Designed to be able to collect data for analysis.
Sensor types
Interface compatibility
Temp-humid sensor (simple version)
Digital
Soil temperature
/ Volume water content percentage
/ EC sensor
Digital
Water depth sensor
Digital
Solar radiation sensor
Analog
2-point thermistor
Analog
CO₂ sensor
Analog
03

Power saving design withfine-controlled measurement intervals.

Sensors take measurement every 10 minutes andcommunicate and transmit data every one hour*⁴.
04

Supports remote command.

From cloud, you can change the settings such as the data acquisition intervals and update the firmware.
05

Usable both in open fields and greenhouses.

Conform to IP55
06

Zero Setup

The simple design only requires you to insert batteries and press a power button.

*1 : In the case of connecting the sensors that consume high power such as temp-humid sensor (with radiation shield) and CO₂ sensor, power cable (AC adaptor) is necessary.
*2 : NiMH batteries are included. *3 : When fully charged, it can transmit up to 200 times without sunshine. *4 : This is the default value. The measurement interval is adjustable to 10, 30, or 60 minutes. The transmission interval is adjustable to 10, 30, 60, or 120 minutes. To save power, sensors keep measuring during night time, and transmit the data the following morning.
● "inrevium" is a registered trademark of Tokyo Electron Device LTD.
Product Specifications
Item
Specifications
TED Portable IoT Gateway
Basic functions
3G/4G Wireless communication
Measurement of environmental data
Maintenance of environmental data
State monitoring
Location information acquisition(GPS)
Power supply
NiMH battery
DC12V power supply
*In the case of connecting the sensors
that consume high power,
optional DC12V power cable(AC adaptor)
is necessary.
Basic functions
Analog port x 2
Digital port x2
DC12V x1
Operating environment
Temperature: -15 to 55 ° C
Humidity: 15 to 90%RH
*avoid condensation
*This is the operating environment of the gateway.
Terms of use
Outdoor (IP 55 or more)
*Except for hot spring areas and
salt damage
External dimensions
150mm x 152mm x 52mm
mass
Less than 0.8kg
power consumption
Less than 12W

e-kakashi supportsthe sustainable society
Environmental Conservation in Greening
With the verification tests, e-kakashi holds the system for estimating the actual amount of CO₂ absorption.
With the acceleration of global warming, various companies and organizations are promoting the environmentally conscious management, pursuing forestation projects that will help to absorb CO₂ and greening initiatives for their offices, but it is difficult to grasp the actual amount of the CO ₂ absorption in real time. We developed the system for estimating the amount of CO₂ absorption in greening spaces in which our propriety algorithm was combined with meteorological data and environmental data collected by sensors. Furthermore, we conducted the verification tests on this.
We strive to support the initiatives to bring about a decarboni zed society.
Environmental Conservation Through the Effective and Optimal Use of Water Resources
The optimum water management reduces the amount of water use by 20% and the methane emissions by 40% while improving the harvest efficiency by 20%.
Research has shown that rice paddies emit a large amount of the greenhouse gas methane and it accounts for as much as 20% of the amount of the total emission caused by human activity. Furthermore, it is said that the greenhouse effect of methane is up to 72 times greater than an equal amount of CO₂. This methane is emitted by anaerobic bacteria that inhabit rice paddies. If they were left filled with water, the oxygen in the soil will be depleted. Microbes will be activated, thereby increasing methane production. e-kakashi provides forecasting alert for the optimal timing of water management.
This makes it possible to keep down methane production and to make effective and optimal use of water resources.
Please note that the specifications and appearance may be changed without advance notice for the purpose of improvement in the service.