Through SATREPS (1), PS Solutions, an IT solution provider, is participating in CIAT (2), a project developing rice crops and farming systems optimized for Colombia.
e-kakashi, an Agricultural Internet of Things(IoT)
Why is an IT company and not an agricultural or chemical company being tasked to solve food problems in Colombia? The answer is e-kakashi, a powerful IoT tool designed by PS Solutions. e-kakashi collects environmental data and integrates it with farming data to give crop growers the best solutions to a wide range of field conditions.
"We must listen to the crops", says e-kakashi developer Dr. Takashi Togami, "to know when they are thirsty or sick. Like children, with special attention and care, plants will grow, bloom and produce well."
In partnership with Hitachi, Ltd., e-kakashi is combined with sensors that can measure environmental factors that influence crops, such as air temperature and humidity, soil temperature and moisture, and solar irradiance. Data is collected at a specific field and combined with previous scientific data about cultivation to create ek-Recipe, a tool Dr. Togami describes as a science-based e-farming manual. ek-Recipe helps the user optimize cultivation. Another tool of e-kakashi, ek-Navi, supports decision making for the cultivation.
The benefits of using e-kakashi were demonstrated in 2016 for the cultivation of Koshihikari, a rice crop grown in Japan, Australia and the United States. ek-Navi calculated that an accumulated temperature of 1000°C upon panicle initiation would prompt harvesting. In combination with this prediction, ek-Navi calculated the best crop would come with an accumulated irradiance over 750 MJ when the crop is ripening. The powerful and unique
feature of e-kakashi is its capability to turn collective farming experiences into indices for optimal cultivation.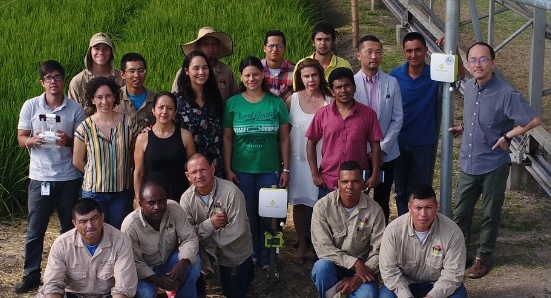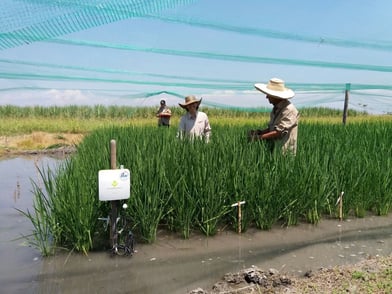 Reduction of Environmental Footprint
However, e-kakashi goes beyond simple cultivation management. It also contributes to solving environmental problems such as unstable water supplies and greenhouse gas emission such as methane. Controlling water levels during plant growth could have a significant effect on methane emissions (3). In collaboration with Tokyo Electron Device Limited, PS Solutions has been developing e-kakashi to track and calculate optimal water levels at each phase of plant growth as a way to both enhance agriculture productivity and reduce methane emissions. "Agriculture has a great negative impact on the global environment. Integrating scientific knowledge and technology can minimize that impact and still realize sustainable agriculture," says Dr. Togami.
Related Services